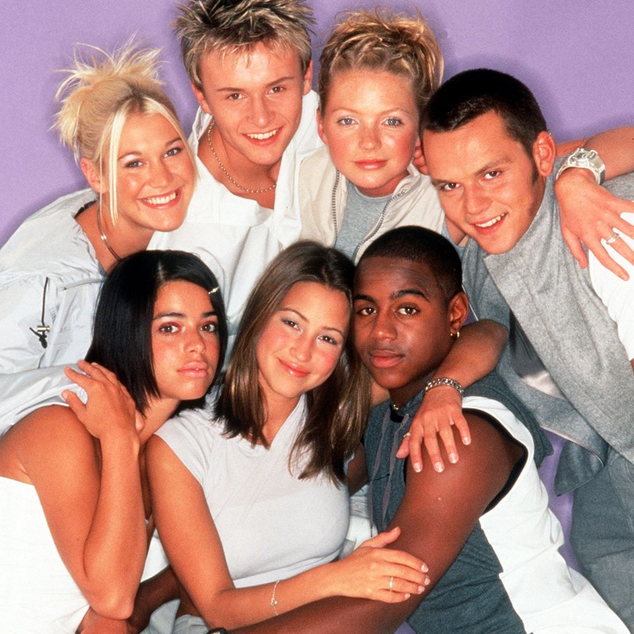 S Club 7 were founded in 1998 by Spice Girls manager Simon Fuller. Consisting of Rachel Stevens, Tina, Barrett, Jo O'Meara, Hannah Spearritt, Jon Lee, Bradley McIntosh, and Paul Cattermole the band debuted in April of 1999 with the BBC release of their television show 'Miami 7'. The show saw fictionalized versions of themselves attempting to crack into the music business. The show featured performances of songs that would be featured on their debut album, simply entitled S Club.
In June of 1999, S Club released their first single 'Bring It All Back', which shot straight to number one in the UK Charts. This was followed by 'S Club Party', as well as, 'Two In A Million' and 'You're My Number One'. All of which were performed during Miami 7 and featured on their self-titled debut album. During this time, S Club began work on the second season of their television show entitled "L.A. 7", this saw the members of S Club traveling to the Los Angeles in hopes of fame and fortune.
The television show was supported by an album entitled "7", which featured the singles "Reach" and "Natural". Around this time S Club were slated to release "Bring The House Down" as the third single from the "7" album, however, this was scrapped in favor of "Never Had A Dream Come True" as the official Children in Need single for 2000, the song debuted at #1 in the UK Charts and spawned a re-release of the "7" album to include the track! During this time, S Club announced they would go on their first tour which was entitled "S Club Party Live"
Following the arena tour, S Club 7 recorded their third television series 'Hollywood 7' and began work on their third album 'Sunshine'. The album featured the floor filling "Don't Stop Movin'" which shot straight to #1 in the UK Charts. Subsequently S Club were invited back to record their second Children in Need single 'Have You Ever' (which also went to #1). By the time the album was released it included previous single "Never Had A Dream Come True" and the final single "You". The band also launched 'S Club Search' which found 8 hopefuls to act as opening artists for the bands second arena tour 'S Club Carnival'. The band went on to become known as S Club Juniors featuring future members of the band The Saturdays. A fifth single (Stronger) was commissioned for release off of 'Sunshine', but cancelled following the announcement of the departure of Paul. Their final performance as a 7 piece was at The Queens Jubilee in June of 2002.
Paul's departure didn't pause the progress of the band, they continued recording for their fourth album and their fourth television series 'Viva S Club' and began work on their debut film. Their fourth album 'Seeing Double' launched the single 'Alive' and became the lowest charting S Club single coming in at #5 in the UK Charts. The bands film (Also titled 'Seeing Double') was released in theaters in April of 2003, around the same time during a performance of their 'S Club United' tour (co-headlined with S Club Juniors) S Club announced that they were splitting as a band. This caused the second single off 'Seeing Double' to be combined with a brand new track 'Say Goodbye' taken from their Greatest Hits album released in June of 2003, when the band officially parted ways.
In 2014, S Club 7 reformed for the first time since June of 2002 in a high publicized performance at BBC's Children in Need telethon. This led to the announcement of their reunion tour 'Bring It All Back' which saw S Club face to face with their fans from around the world. Their reunion also saw the re-release of the bands Greatest Hits album 'Best The Greatest Hits of S Club 7' including an altered track listing to include 'Rain' a song long sought after by S Club fans. Following the end of the tour, S Club once again split ways and continued with solo projects.
In February 2023, S Club 7 once again reunited to celebrate the anniversary of their 25th anniversary. They began the celebration by announcing a reunion tour for October 2023. In the months leading up to the tour, they did a series of interviews and appearances including a sketch for Comic Relief's Red Nose Day. In April 2023, founding member Paul Cattermole passed away as a result of natural causes, as a result, due to grief, Hannah withdrew from the tour and the remaining five members followed through on the planned tour.